October 1st is going to be an exciting Friday in Kensington and Fishtown.  There will be art, music, and even some Halloween "treats".  Click through to find out whats going on where!
Angel Studios 
2452 Frankford
Artwork by Pamela Peitzman and Susan Schaffer with music By Urbana and Ibrahima Faye
Proximity Gallery
2009 Frankford
Come join the goblins, ghosts, witches and artists this October 1st for the opening reception of "Hallowed Halloween" at Proximity Gallery.
The Autumn Society and Philadelphia Cartoonist Society present:
HALLOWED HALLOWEEN
October 1 – October 31
Once a year the summer sun passes on to make way for the birth of the next season. From it's passing, the month of October welcomes many changes with the coming of the season of Autumn. Most know the presence of Autumn thanks to the calm breeze that soothes the sun scorned fields of a past summer's day and the prismatic changes that trees decorate themselves with. Others, especially in the northern ends of the world, know it marks the last harvest of the year. The last harvest, the slaughtering of cattle, and stockpiling of grain are all in preparation for winter. These tasks largely decided Life and Death, and thus was a time to celebrate, mourn and call on the spirits of the season and the field, both good and evil.
A novelty now, viewed as children's games of years forgotten, the rites, practices and superstitions stemming from harvest holidays used to embody the fact that life is precious, delicate, and at a time, largely relied on the last harvest. What at one time was a potluck holiday, borrowing from most farming civilizations, Halloween has lost its edge, its lesson, its beauty. What was once a celebration of life and death, role-reversal and phantasmagoria, black and orange is now garish, commercialized and seemingly meaningless.
Fall is often a short reprieve; a flash of beauty between the sweltering summer and bone chilling winter, passed before it's noticed. However, thanks to rituals that do not invite publicity or the light of day, the practices, adornment and lore that were once Halloween will be celebrated by 35 nostalgic artists this October. For the first time, the Autumn Society and the Philadelphia Cartoonist Society have collaborated to bring you "Hallowed Halloween".
The "Hallowed Halloween" art exhibition will feature multi-media based artwork exploring all the elements that make Halloween creepy, imaginative, and fun. This will include exposing its roots in folklore, diverse rituals, adornment and staple characters. The gathered artists in this exhibition and celebration will ignite the Autumn bonfires as we, the living and the dead celebrate Halloween in all its magic and lore.
Artspace Liberti
2424 York
Artspace Liberti presents its fall show, In3s, paintings by Stephen Evans, Timothy Gierschick II and Matthew Sepielli. This exhibition is continuing from September and will be open until October 23rd.
These three painters represent three different approaches to non-representational work but all share an affinity for the process of creation and the experiential nature of looking at art.
Matthew Sepielli's paintings explore a "what-if" approach to creating art. What happens when you combine oil paint, Vaseline, glue, white out and other materials into a painting? Sepielli is interested in the relative "alchemy" of art- combining familiar materials in something unfamiliar, unknown and somewhat unknowable.
To quote Sepielli: "It is my goal to make works whose physical structure and identity produces a meaning inherent to the moment one encounters the physical object of the work and one whose identity morphs from the moment one encounters the work, to the time one leaves it and remembers it and thus returns- though changed upon a second encounter."Conversely, Stephen Evans' work investigates a more minimal and calculated approach to painting. The application and development of the works are more deliberate and controlled. Evans taps into Kandinsky's views of painting that there is an "initial, physical, and optical reaction to an image that takes place in the eye, but that it may also go further to touch on another level of a being: the emotional and spiritual level. I believe that the formal issues of art are perfect vehicles for the allegorical, and may further more leave the message to supersede the artwork itself."
Somewhere between these two approaches lies the work of Timothy Gierschick II. His paintings appear simultaneously calculated and improvised. His work is a slow call-and-response. Gierschick's paintings are as much an internal dialogue as they are a conversation with the world. Like Sepielli, his materials are often recycled and repurposed. Prescription pads, found wood and latex paint are salvaged and reborn, combining seemingly unrelated materials. Within the structure of the work, color and shape combine and set next to one another in an Albers-like method of communication.
While the gallery does not maintain regular viewing hours, visits can be scheduled by appointment. Please e-mail us at artspaceliberti@gmail.com to arrange a visit. Viewing is also possible during Sunday church services between 10:30AM-12:00.
Artspace Liberti is a multi-discipline arts venue organized and maintained by liberti church east.
Craft Foundry
701 Belgrade
Latest work by Minna Aaparyti in the world of bookbinding and jewelry; locally made soy candles and fair trade teas; hand printed T-shirts by Trish Siembora.
Snacks and beverages served.
Part Time Studios
2031 Frankford
Part Time Studios presents 'Part Time All the Time', a group show featuring recent works from in-house studio artists.
First Friday opening reception October 1, 6-10pm.
Also participating in Philadelphia Open Studio Tours October 9-10, 12-6pm
Johnny Brenda's
1201 Frankford
Downstairs:  Friday Happy Hour (starting at 5pm): Ready, Steady & Waffles….flippin' 45s with DJ Eddie Austin
Upstairs, starting at 9pm:  Oh! Pears, La Strada, Missing Palmer West – visit their website to buy tickets.
Leotah's Place
2033 E York
we will be featuring the Grotesquerie Illustratoins of Michael D Bonifiglio from 6pm-9pm
Extra Extra
2221 Sepviva
A Diamond Is Forever
Art by Alexandr Skarlinski, Daniel G Baird, Dave Murray, Jordan Tate, Michelle Ceja
Opening reception October 1st at 7 pm, RSVP on  Facebook
Extending the idealism granted to youth to the whole of humanity, this work acknowledges that our ability to conjure such grand ideas as the infinite – while awe inspiring – falls short of revelation. The denial isn't cold-hearted. It isn't cynical. The denial comes from a place of sincere reflection. While Ideas larger than life can rest in our mind – and can remain there, in a place of ever-present possibility- they remain out of reach, unable to be manifested except in part and by analogy.
With necessary thrift and detachment, this work is representative of the elusive desires and grandiose philosophies that lie outside of mortal human experience; ideals that are valued but unknown.
Attempting to immortalize some time, some thing – pointing at what is not measurable, trying to hold what is intangible-This work represents possibilities. To the idealistic, our philosophical and material gain is limitless. These ambitious ideals are a treasure, but like most treasure, the impossibility of attaining them always looms.
Liberty Vintage
2212 Sepviva
Vintage motorcycles on display
Perpetua
2039 Frankford
F&N Gallery @ Circle of Hope
2009 Frankford
Rachel Lang: A fiber sculpture garden that transposes forest and ocean.
With ambient musical guest members of Cuddle Magic and Josh Carrigan.
Light refreshments will be served.
two percent to glory
1817 Frankford
Vintage clothes, cheese and wine!
Highwire Gallery
2040 Frankford
Exploring Invisible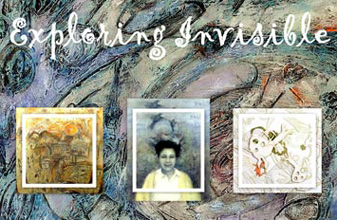 October 1-31, 2010
hours: Thur and Fri 12-4, Sat and Sun 12-5
reception: Fri Oct 1, 5-9 pm
an exhibit by artists Piety Choi, Maria DiMauro, and Karen Steen
ALSO NOTE: The Highwire Artists Co-operative is accepting applications for new members.
Highwire is a member-run artist collective with a gallery on the emerging Frankford Ave Arts Corridor.  Member artists participate in group shows and a two person exhibition every 16 months, with an opportunity to petition for a full-gallery solo exhibit with an extended 2 year wait.  Artists are free to develop their work independently, and are encouraged to take risks and experiment while working in this supportive collective environment.
Highwire is a member-run organization, with artists curating and programming all events. Membership is open to those who do not have commercial gallery representation and who are actively pursuing contemporary issues.  Upon acceptance there is a one-time initiation fee of $150.00 and monthly dues are $65.00. Members are required to gallery sit, attend monthly meetings, and contribute to committee work as needed.
For more information about submitting images for application, email us at highwiregallery@gmail.com and put "new member info" in the subject line.
Philadelphia Argentine Tango School
2030 Frankford
Wine, cheese and free mini-tango lessons (8-9 pm)!  Followed by a FREE practica (casual social dance event) until 11 pm.
Heathen Salon
2021 Frankford
A house salon, all are welcomed.
GERM Books and Gallery
2005 Frankford
IN THE JENNIFER BATES MEMORIAL GALLERY
Friday, October 1 through Saturday, November 21, 2010
TWO PHOTOGRAPHERS:  CHUCK VAN ZYL & JEROME DEPPE
Opening Reception:  First Friday, October 1, 5-9PM
CHUCK VAN ZYL co-ordinates The Gatherings Concert Series, founded a non-profit to sustain it, hosts the STAR'S END radio program on WXPN in Philadelphia as well as performs his own electronic music. With a healthy curiosity towards all things otherworldly and timeless, it is no wonder he's attracted to the odd realm of infrared photography.
Having been curious about black and white infrared film for many years and the unique photographs it yields, in 2004 van Zyl finally started looking into this method of photography.  Through a few books and Internet articles, he acquired a working knowledge of the subject and set out on a series of photo expeditions which combined intuition, luck, trial and error and the rapid accumulation of knowledge new experiences usually facilitate.
He found that along with most of the visible range of light, infrared film is also sensitive to a portion of the spectrum which cannot be seen by the human eye. By using a special filter, the images made with this film have unusual properties such as halation or a halo effect, as well as false shadings – that which absorbs infrared light (sky, water) appears dark or black and that which reflects it (leaves, foliage, people, clouds) appears lighter or white. The use of an extremely wide-angle lens adds a great deal of depth and breadth to the photos.
An uncommon interest in places and things abandoned by modern society led van Zyl to the old rural/garden cemeteries present in his photography, but it was the varied texture and make-up of the landscapes that drew him and his camera. Foliage, open sky, clouds, ponds, stonework, etc. all reflect or absorb infrared light differently and therefore show up on the negative in somewhat unpredictable ways. Plus, the film often bestows an evanescent atmosphere on the scenes. This, coupled with the already surreal landscape of these old [Victorian era] cemeteries, makes the photos outright otherworldly.
The cemeteries he visited were established in the 19th century and among the first of their kind in the country. The landscaping, statuary and architecture were on a grand scale, and city people of this time visited these places in droves just to take in the splendor (as at this time art museums were yet to be built in America). Present day America is a much different place. As van Zyl treks around these places, some encompassing over 400 acres, it remains a solitary experience. It's an interesting feeling, being in the midst of an enormous metropolis like Philadelphia, Chicago, St Louis, Brooklyn or the Bronx, and walking through a vast and meticulously kept hidden garden, among beautiful statues of angels and monuments to beloved family, unbeknownst to the teeming masses of commuters just beyond.
Always a solitary venture, the loneliness of the necropolis is not felt by van Zyl. These places had to have been consoling to visitors. The beauty of the landscape was meant to soften the harsh daily presence of death in the 1800's. The angels, mourning maidens and funerary art and symbolism were meant to portray an inexpressible sorrow. Yet van Zyl feels the hope that is hidden in the landscapes and monuments, as well as the grief which inspired their creation.
JEROME DEPPE is exhibiting a selection of photographs from his 25-year career as an art photographer. The exhibit combines darkness and light culled from multiple projects that interpret scenes from both the Old and New Testaments as well as revelations from the Age of Enlightenment and relics from various lost civilizations. Deppe works exclusively with traditional film based photography and uses vintage large format cameras to make most of the images he creates. A former Philadelphia area resident, Jerome is an alumnus of the Corcoran School of Art in Washington, DC and currently resides in Baltimore, MD.
NKCDC Garden Center
1825 Frankford
Browse our selection of perenials!
Kensington Yoga
2042 Amber
A pot luck grand opening for Kensington's newest Yoga Studio, located right under the Harbison's Milk Bottle in The Milk Depot.
Walking Fish Theater
2509 Frankford
Memphis Flats
1714 Memphis
Installation artist and sculptor, James Labold
Curated by Jeffery Frederick of JSF Contemporary
BookSpace
1113 Frankford
Browse the vast selection of printed materials!Atlantis the lost Bar
Frankford & Hagert
VWVOFFKA
2037 Frankford
Title: Small Objects
'Small Objects' is the operative name given by Linnea Vegh and Steven Streisguth to their collaborative body of work. The pieces are often a combination of inside jokes, second-hand anecdotes, relationship detritus, and personal jetsam. Working in sculpture, print, and found objects, the proximity of individual pieces form constellations of personal mythology.
Refreshments catered by Bongo Zeptobrewery
O'Reilly's Pub
Frankford & Lehigh
Rocket Cat
2001 Frankford
TERMITE TV PRESENTS WALK PHILLY : Fishtown
VIDEO WALKING TOURS FIRST FRIDAY OCT. 01 , 2010
5:30pm – 7:30pm
Termite TV is excited to introduce video walking tours to the Frankford Arts First Friday in October. As part of Termite TV's ongoing Walk Philly project, video artists collaborated on four pieces focusing on local lore of Fishtown/Kensington. People are invited to meet the participating artists and follow the walks with an iPod for a unique, immersive experience of Frankford Avenue's history, poetry & edible weeds! Artists involved in the production of these walks include: Michael Kuetemeyer, Anula Shetty, Laura Deutch, Deborah Rudman, Michael O'Reilly, Erin Howley, Lynn Landis and Kenneth Milano. Each of the connected walks run between 5 and 15 minutes.
Come by the Termite TV table at the Rocket Cat Café,  2001 Frankford Ave. First Friday Oct. 01,  from 5:30pm until 7:30pm to meet the artists and download the videos to your own iPod/iPhone or one you borrow from  the Termites. Any of the Walk Philly tours can also be accessed and downloaded from the Termite TV website  http://www.termite.org
These Video Walks are all part of Termite TV's Walk Philly project. Walk Philly is an ever-growing database of video tours made and led by a diverse array of artists, students, historians and community organizers. Each Walk Philly video tour is a personal interpretation evoking different moods, memories and histories ranging from the playful to the experimental to the informative. To take an immersive trip through the diverse streets and neighborhoods of Philadelphia go to http://www.termite.org/walkphilly, Click a walk by theme or location on the map, download it to your iPod/iPhone, go to the start location, play the video and Walk Philly!
Founded in 1992, the mission of Termite TV Collective is to produce, distribute and facilitate the creation of experimental and activist media that challenges the status quo and provides an alternative to corporate media. Termite TV values working collaboratively across artistic disciplines, inspiring other artists, encouraging the expression of multiple styles and points of view, risk-taking, innovation and the blend of humor and intelligent critique in our work. To date Termite TV has produced over 40 programs and 30 walks, which have been broadcast nationally on television and screened at festivals and museums worldwide.
Mendez Homes & Investments
2480 Frankford
Please join Jessica Barber and Mendez Home Investments for a night of wine, cheese, and art in the heart of Kensington!
"Explorations in Texture" — Art by Jessica E. Barber
ARTIST'S STATEMENT:
My style is highly intuitive, drawing inspiration from a variety of subject matter. Most often, I tend to gravitate toward capturing the essence of the human form in a loose, expressive manner, using color and texture as my primary focus.  Combining monotype printmaking with painting and pastels is my favorite vehicle for creating these images. I utilize monotypes, lithographs, or other prints as a textural base, then create subsequent layers in other media until I've achieved
the desired result. My goal in not to render my subject exactly as it appears, but rather to interpret the spirit of the form and my internal perceptions related to it.
The Lola Bean
1325 Frankford
New Paintings by Gilberto Gonzalez – Designer • Artist • Author: www.threeringsbook.com
Oct. 1:  6 – 8 pm
Projects Gallery
629 N 2nd
Pen.Ink.Paper – Art by Henry Bermudez (Frankford Ave resident)
Oct 1 – 30, 2010   Reception Oct 1st 6 – 9 PM
Projects Gallery is located at 629 N. 2nd St. in Philadelphia's Northern Liberties section.  Gallery hours are Wednesday – Friday 4 to 7 p.m. and Saturday noon to 7 p.m.  A preview of works may be viewed on the website at www.henrybermudezart.com
For more information, please contact Projects Gallery at 267-303-9652 or info@projectsgallery.com
Slingluff Gallery

11 W Girard

Opening
Saturday Oct 2nd
6-9p
Artist Joe Castro Title: "Automatic Amnesia"
Paintings and Collages